A yarn with Taungurung Elder Uncle Shane
Uncle Shane is a Taungurung Elder who is today continuing the good work of his Mum – the late Aunty Judy Monk – working hard to protect and celebrate Taungurung Culture for future generations. He's the bearded, larger than life bloke that is always up for a laugh. You'll find him doing cultural surveys, behind the wheel of the wawa biik bus or having a natter with the young ones. He is the all-rounder that can do anything and will do anything for his mob. Uncle Shane has worked for the Taungurung Land and Waters Council for 8 years and is now the backbone of wawa biik. He leads all the wawa biik experiences, passionately sharing his Culture and giving visitors a stronger connection to both Culture and Country. Uncle Shane loves what he does. We yarn with him to learn more about his story.  
Tell us about your family and your Country?
I do what I do because of my Mum and all my Ancestors before us. Thanks to Mum, we always knew our culture and which Country we come from. Mum was always advocating for Taungurung rights and put in so much work for Taungurung throughout her life. Together with all the Taungurung Aunties and Uncles she set up the Taungurung Land and Waters Council back in 2003 which was a huge step forward for our mob.
Where did you grow up?
I grew up with my brother and sister in Healesville, Yarra Valley. My Ancestors were put onto Coronderrk Station and when it was closed down, my great great grandmother shifted to Healesville with other families. It was a friendly town and there was a big group with people from mobs all over Victoria. There was always cultural events and camps to get involved with. It was a small community and everyone knew everyone. There were so many people out there who didn't know their cultural background until a certain age. I remember meeting someone who only found out they were Indigenous when they were 55. It was a good place growing up but it's changed a lot now.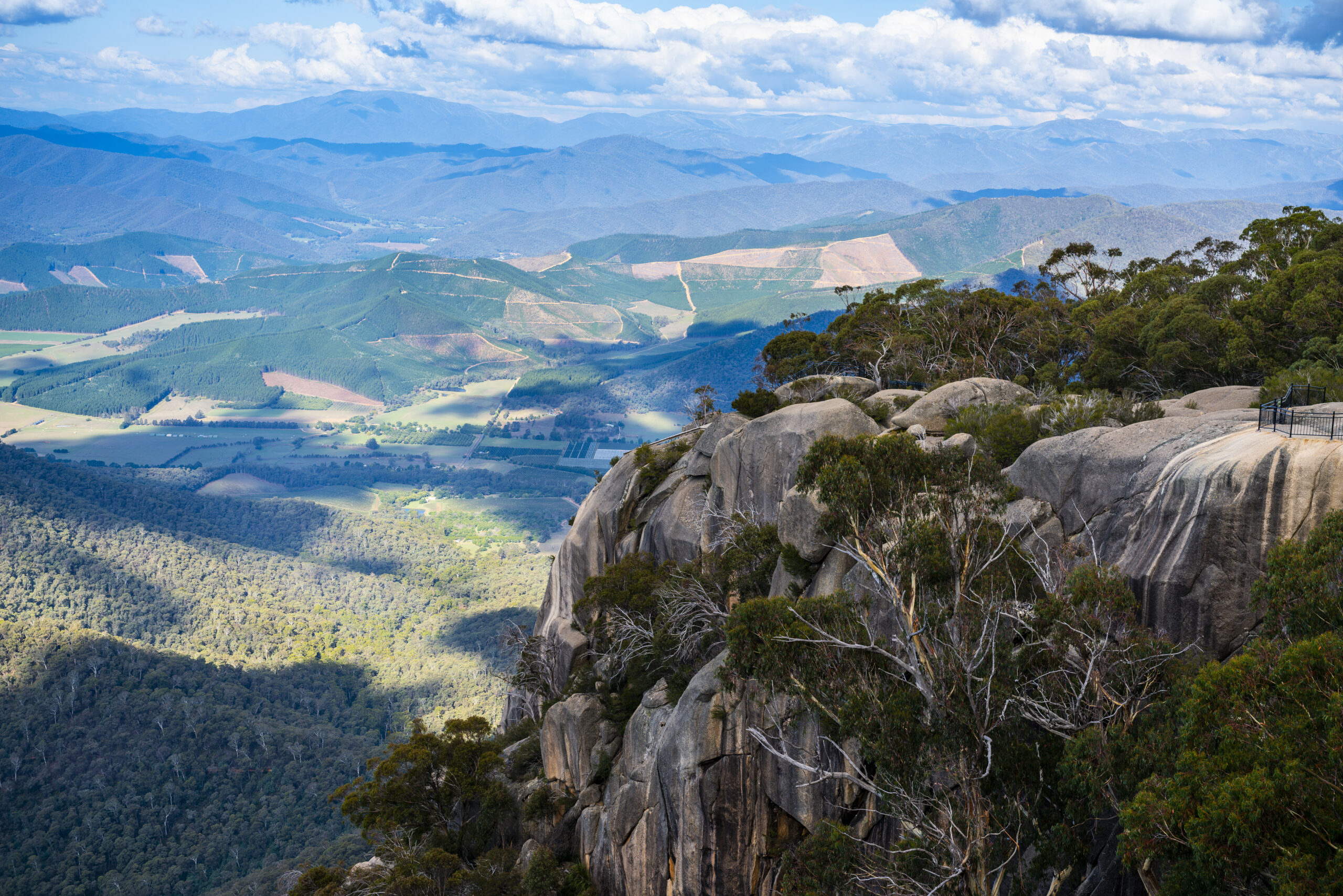 Where on Country is most special for you?
The Alpine High Country – I love Mt Stirling – feels so special. Only 2% is resort country, the rest is bush. I love the twisted snowgums and being in the middle of nowhere where there are no lights and you can camp in peace with no one next to you. I like the history of cattlemen – love reading about how hard they had it. After working there for years though I know the damage the cattle have done. I hate the heat but it's much cooler up there and that's why our Ancestors would have liked it too. I want my ashes to be spread on Mt Stirling. I've always loved the Goulburn and the weir too for camping and fishing, we often went there every Christmas as a family. I was once camped out on the Delatite River with my wife and we pulled the boat in, set up swags, the lake was low. Once we set up, I spotted cultural artefacts sticking up from the dry lake – I found 35 artefacts. My Mum later told me that one my great grandparents were born on the Delatite river. Knowing my family connection, I got Aboriginal Victoria to come and register these artefacts as a collection – to be held by me.
From a Roof Plumber to Cultural Tour Guide - tell us about this journey
As a teenager I was always out fishing, hunting and camping with mates. Mum was always getting us involved with culture. We went to Roxby Downs and camped with mob up there to protest about uranium mines, we travelled to Alice Springs with mob up there, attended Native Title meetings and things like that. Mum was always working on something in the loungeroom so we always had culture around us. I started as a roof plumber and did that job for 22 years but in 2010 got a job with CMA which brought be back to Country. I loved working on Country. I had a bleed on the brain about 18 years ago which gave my Mum a scare and she convinced me to focus my work on culture from then on. Mum got me back into cultural survey work and then I started working for the Corporation. I love doing what I do and get up happy and motivated every day. I'm hoping that wawa biik really takes off so I can work full time as a Cultural Tour Guide, being out on Country, educating people every day.
What does being an Elder mean to you?
Being an Elder means I'm respected by the mob and that I share my knowledge and support the younger generation or anyone in the mob that would like to learn cultural information. To me, being an Elder shows that the mob have respect for me and the knowledge I hold.
How does it feel to be leading groups on Country for wawa biik?
I feel proud every time we finish a tour. All the hard work we've put in to getting it set up has paid off, we've done it right. We didn't want to jump into tourism, we wanted to launch it and make sure it's good, not just learning on the job with mistakes. Thanks to our Tour Guide Training, we know how to run a tour properly and haven't heard one bad word so far. It is so satisfying to get the good reviews back, really makes you feel proud.
What's been a memorable moment on tour so far?
The tour we had with the Intrepid team – they run tours all over the world and to see the feedback they gave us was amazing, we know that the cultural information we're getting out there is top notch. Intrepid were involved in our Cultural Tour Guide training so to see them enjoy our experience, we know that we did a good job. We've done what we set out to do, it makes those 3 years of setting up the business worthwhile. Hearing what Country means to people is really nice too. They go out there on Country and the stress lifts off their shoulders. Some of the stories that people are sharing gets me emotional listening to them.
What are your hopes for wawa biik?
I've been part of the wawa biik journey since the start, it's been a long process over 3 years. I knew that tourism would take off because people want to know our stories. The training we did was really good because we got to see some of the younger Taungurung people step up and it's amazing to see what they're capable of when there's support around them - that's what made me really proud. It took me years before I could get up and talk but we made them feel comfortable to have a go. I'd like to see at least another 4- 6 young Taungurung people get involved with wawa biik and I want us to continue to offer good quality experiences. The more people that know about us and what we are about can only benefit Taungurung into the future.